Student Leadership
Key leadership qualities are very important in these senior years. Students in these classes will be challenged to accept and develop responsibilities as leaders and citizens of the world.
House System The school has four Houses- Eagle, Kestrel, Hawk and Falcon. Each House is led by a House Captain, who has the overall responsibility of all students in their respective Houses. House Leaders are responsible for the House activities which are held at school.
Student Senior Leadership Team Testimonials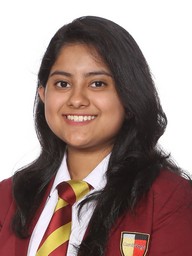 Shreya Gupta
Head Girl
Thirteen years ago, I joined CIS- a community of emotions and intellect that has shaped my identity since. Cambridge consists of a highly experienced and passionate SLT and many dedicated teachers working relentlessly to ensure our learning environment is the best it can possibly be, making them the best role models we could possibly have.
At CIS, I have been taught that in addition to academic excellence, we should strive to become effective leaders and responsible global citizens- by giving back to the community, following our passion, and empathetically listening to others to create change. These teachings have always kept me motivated and helped me effectively work as the Head Girl, CIS Debate Coordinator, and be awarded the prestigious Sheikha Fatima Award for Excellence for years 2019-2020. Overall, I am exceptionally proud to be a student at CIS and am humbly grateful for the enriching learning experience provided here- which I will cherish forever.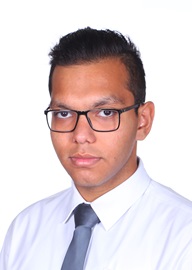 Zohaib Zaheer
Head Boy
From leading the SSLT to planning events, as the head boy of Cambridge International, my formal duties are ever-expanding. The most rewarding of all the jobs has been bringing the SSLT together during these unprecedented times and assisting them with the implementation of their ideas in the new world order we live in. I am also excited to be a representative for CIS as we do bigger and better things next year (albeit from our bedrooms).
Although I am fairly new to CIS, I have come to truly admire every single student, teacher and member of staff in this community. The opportunities that have been afforded to me are unlike any other school and for that, I am forever grateful.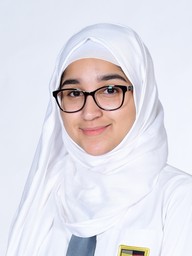 Nabiha Sidat
Head of CCAS
I believe that building a tight-knit community of students, teachers and staff is integral to the role of Head of CCAS. I strive to lead the strand with impact creation at the core of all our initiatives, which are designed to maximise student engagement within the community, whether that be through Community Service or the Student Mentoring program. CCAS is for students, by students and I try to ensure that they are able to actively work towards achieving their personal goals whilst acting as ambassadors for change in their communities in their own unique way.
During my time at Cambridge International School, I have developed qualities such as resilience and compassion which have helped me work towards my own goals. My experience has been very enriching and one that I will forever have a special memory of.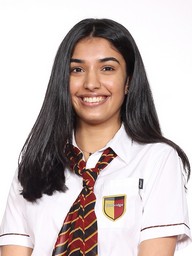 Prinita Bhatia
Deputy Head of CCAS
As Deputy Head of CCAS, I collaborate, communicate, and involve others to make a collective impact on the school. The abundance of community feeling is what CIS is known for and I hope to be the catalyst that will make that feeling stronger. Cambridge International School is where we all strive for excellence, that is our motto. The school always makes sure that everyone is at their greatest, achieving the most and performing at their level best. Cambridge is an experience. The people you meet, the ideas shared and the opportunities to showcase potential are some of the best parts about this school. I would encourage every student to join our community, not only will they receive great education, but they will create greater memories for years to come.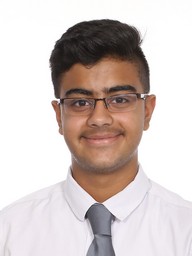 Aryan Shah
Head of Prefects
Greetings to all, my name is Aryan Shah and I am serving as the Head of Prefects for the academic year 2020-2021. My role as the Head of Prefects is to lead the largest leadership cohort in school and ensure that student voice is amplified in key decisions and developments that take place around the school. It is said that the essence of great leadership is influencing not authority, CIS embodies that exact sentiment. It does not just provide its students with the ability to excel academically but it equips us with the skills required to critically think and question. Through my time here I have learned that it isn't because of its big airy campus, but a consequence of its emboldening teachers and considerate staff that makes this institution a great school. I hope to further enhance its status and provide an inclusive environment for all to flourish.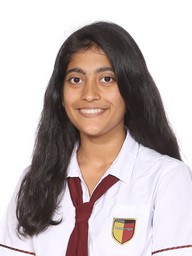 Urja Mhatre
Deputy Head of Prefects
My name is Urja Mhatre and I am the Deputy Head of Prefects for the academic year 2020-2021. The Cambridge International School is a tight-knit community that believes strongly in student leadership. With my position in the Senior Student Leadership Team, I aim to be the perfect bridge between the student body and the school management. Our school covers a wide range of activities and is an amalgamation of academics and extracurricular activities that contribute to overall personality development. Academically, the school offers varied subjects choices ranging from sciences to performing arts with an excellent faculty to teach us these subjects. Additionally, the Senior Leadership Team at CIS makes decisions that target students' best interests and are very approachable. All in all, being a part of Cambridge International is a fulfilling experience and is cherished by all students here.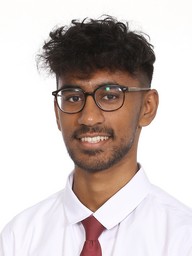 Elijah Francis
Head of Interhouse - Falcons
My name is Elijah Francis and I'm the Head of Inter House for the 2020- 2021 Academic Year. Being an Inter House leader is much more than keeping your respective house and its students in check or trying to acquire house points. It's about being a figure that students can approach with their ideas and opinions to try and make their time in school as enjoyable as possible. It's a responsibility bestowed upon someone that would allow them to help students find their passions which would lead them to success in their future lives. Cambridge has always been a sanctuary of academics for me, encouraging me to pave my own path to the contest of adulthood. I am eternally grateful to our school for helping me mold my interests, hobbies and thirst for learning to make me the person I am today.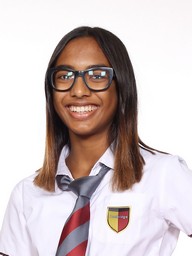 Izabelle Marianne
Head of Interhouse - Hawks
CIS put simply embodies a melting pot, with the student body encompassing a diverse number of talents ranging from problem-solving to public speaking. As head of inter-house, I intend to extend the current stage so that students can shine with their brightest qualities regardless of what they may be. Enriching these unique talents so that they may morph into potential career paths that could shape our students into future leaders, actors, or athletes. Accompanying our vast number of gifted students is an exhilarating and inspiring team spirit radiating across the entire school which always keeps students on their feet and working at their best. Through the inter-house committee, CIS has fostered a contagious team spirit that has given us students the motivation and platform to accelerate us to the best versions of ourselves.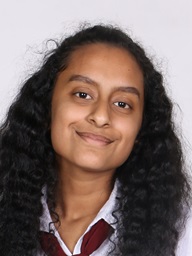 Sherundi Joseph
Head of Interhouse - Kestrels
Ultimately, Interhouse embodies the crew that raises the anchors from the bottom through the values of team and community building- it's a platform that helps students reach new heights in discovering their talents and to capture the essence of school spirit. Our school is like a patchwork quilt- it's filled with students of different talents and specialties. As Head of Interhouse, I intend to ensure that our top goal revolves around creating an environment that focuses not only on academics but health, fitness, and wellness too- to identify students' real potentials and abilities, all delivered in the forms of team building and self-improvement activities that are contributed to the common goal of benefitting our houses. I will tailor students' experience is Cambridge towards something they will preserve for the rest of their lives.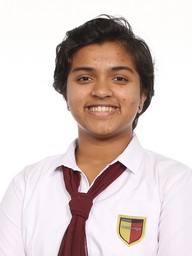 Stephanie Kurian
Head of Interhouse - Eagles
As Head of Interhouse, I strive to bring up participation from each, and every student and to engage in any event that I plan to bring up. CIS is a thriving wellbeing school with numerous talents and mind-blowing knowledge. CIS also allows students to discover new talents for them. Therefore, being part of CIS has allowed us all to reach our full potential, whether it may be sports, academics, or even extra curriculars.

Karim Mohamed
Head of Secondary School
At CIS we have gotten accustomed to being surrounded by resonance of academic excellence, however, at CIS, we really get to see that school is much more than an educational institution but more so a second home that allows students to express their unique talents and skills and gives them a platform to grow and mould into the leaders of tomorrow. Our school always allows the student to pick and merge diverse combinations of extra-curriculars which allows each individual student to unleash their true potential. Being in CIS is a truly delightful experience, it is a learning journey that every student will cherish for years to come. My goal, this year, is to elevate the experience of a Senior Student by facilitating new opportunities and learning experiences that coincide with their learning to allow them to better prepare themselves for the uncertainties of the future.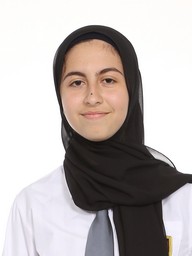 Sarah Chaban
Deputy Head of Secondary School
I believe that each student at CIS has the capacity for leadership- as one of our main school values is "Growing by Learning".
My target, as Deputy Head of Secondary School, is to impower and inspire students to create a more inclusive community at CIS by setting a good example.
All the students of CIS are passionate, creative and hard-working and are always striving to work to the upmost potential; coming to school has been a constant learning experience because each student has a unique perspective to offer. Moreover, the school offers opportunities for students to come forward and showcase their talents and abilities, to make sure every student can unlock their true potential. Nevertheless, I value the opportunity of being in such a diverse community at CIS and will cherish the experience for years to come.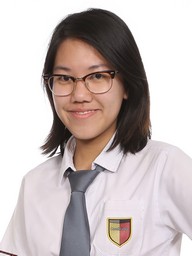 Anh Nguyen
Head of Early Years
I am Anh Nguyen, and I'm the Head of Early years for the year 2020-2021. With this responsibility on my shoulders, I try to make a positive impact on the Early Years Foundation Stage by helping them strengthen their abilities as unique individuals.
Each of our young students is bright and has limitless potential, so Cambridge International School helps to shape them into the best version of themselves. We thrive off of intellectual freedom, where students can develop and explore at their own pace while receiving immense support from their peers and teachers along the way. Besides the academic curriculum, our school offers various activities and events that create fulfilling experiences of our passionate and unified community. Overall, studying in this school is a rewarding journey that has taught me valuable skills to succeed in the brighter days ahead.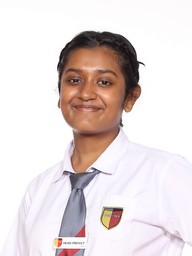 Rupneet Shahriar
Deputy Head of Early Years
CIS is my primary gateway to knowledge. In my time here, I have witnessed so many teachers and students display their great characters to inspire others. And one day, I aspire to be just like them. This school has given me the freedom to express myself in numerous ways, allowing me to hone my skills and harvest my knowledge, all to help me find my stance in this ever-changing world. Moreover, CIS is a cauldron of diversities, personalities, ideas and emotions, and I consider myself incredibly lucky to be able to grow in such a divergent environment. With my leadership position, I aim to create opportunities for everyone to find themselves and leave their mark in this community. Lastly, CIS is home to countless individuals with dreams and goals just like me, and I'm incredibly honoured to be able to share my learning experience with them.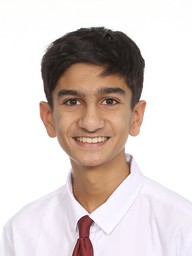 Zain Mulk
Head of Student Council
Our students are the backbone of this driven community. For many and myself, CIS is even more than our second homes and rightly so. CIS is special in that it values the importance of the student voice and the student council is the bridge between our students' voices and the dynamic campus. I aspire to incite student involvement in all that we do through interactive, engaging and evolving means that best appeal to our students so that they graduate with contentment and without any regrets. One wouldn't be wrong if they were to say that I am our students' microphone and the council their stage.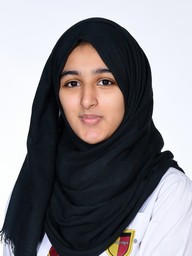 Rasha Jameel
Deputy Head of Student Council
I am proud part of the CIS community where every opportunity- every aspect of my learning has only been fair, and every voice is heard and valued. My journey in CIS has not only been that of academic learning but building my overall personality from a shy introvert to someone being elected as the deputy student leader. The CIS community grows you, grooms you, nurtures you and then you are ready to transform from the caterpillar to the butterfly. CIS prepares you to fly high, follow your passion, builds on to your dreams and helps you make a reality. When you face a dilemma you have support from all ends, makes you feel as safe as a mother's womb and when you have to stand for your yourself then it's teaches you to be a warrior. Voices are heard, emotions are displayed, every child is important, every emotion is important. Everything matters, everybody matters.