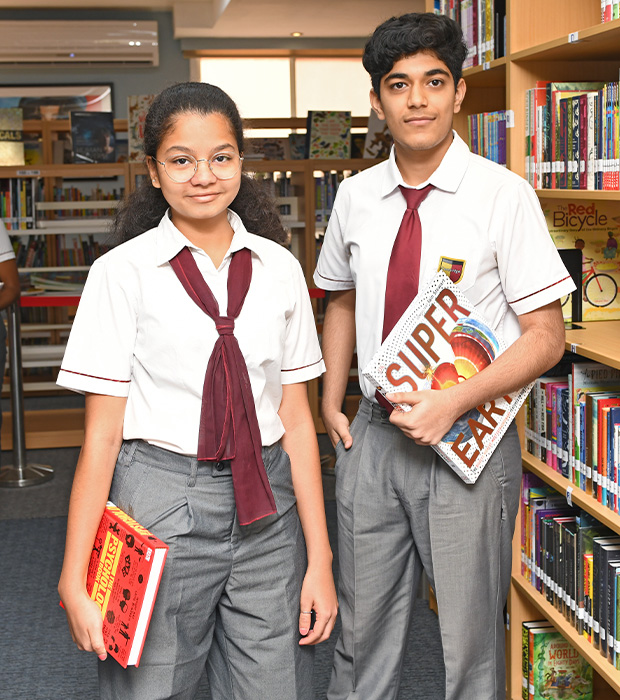 Uniforms
FS 1- Year 2
Boys
Cream Polo Shirt
Grey Shorts/ Trousers
Black shoes with black socks
Black belt and Schoolbag with logo
Girls
FS Striped dress
Burgundy tights (optional)
Scrunchie/Hairband
Black shoes with white socks
Schoolbag with logo
Year 3 – Year 6
Boys
Short/Long sleeves shirts
Grey Trousers
Black shoes with black socks
Black belt
Crossover tie
Burgundy Full Tie (recommended for older students)
Burgundy Clip-on Tie (recommended for younger students)
Schoolbag with logo (optional)
Girls
Short /Long Sleeves blouse
Knee/Long skirts
Crossover tie/ Hair accessories
Burgundy Tights/ White socks
Black belt and Headscarf (optional)
Schoolbag with logo (optional)
Year 7 – Year 13
Boys
Short /long sleeves shirt (white)
Grey Trousers
Ties
Burgundy full tie (Year 7 -11)
Striped full tie (Year 12-13)
Black shoes with black socks
Black belt
Schoolbag with logo (optional)
Girls
Short /long sleeves shirt (white)
Knee/Long skirts
Scrunchie/Hairband
Black belt/Neck scarf
Schoolbag with logo (optional)
PE AND WINTER UNIFORM – UNISEX
Polo shirts (FS1- Year 13)
Navy track pant
Navy shorts
Pullover
Baseball and Legionnaire cap
Uniform Guidelines
It is on the expectation that all students will wear uniform purchased from Threads as per their uniform guide.
Boy's shirts are to be tucked in at all times. Ties are to be worn so as to cover the top button.
Skirts are to be worn at/ below knee length.
Hair longer than shoulder length should be neatly tied.
Makeup/ nail varnish should not be worn.
Jewelry should be kept to a minimum. No facial piercings are allowed.