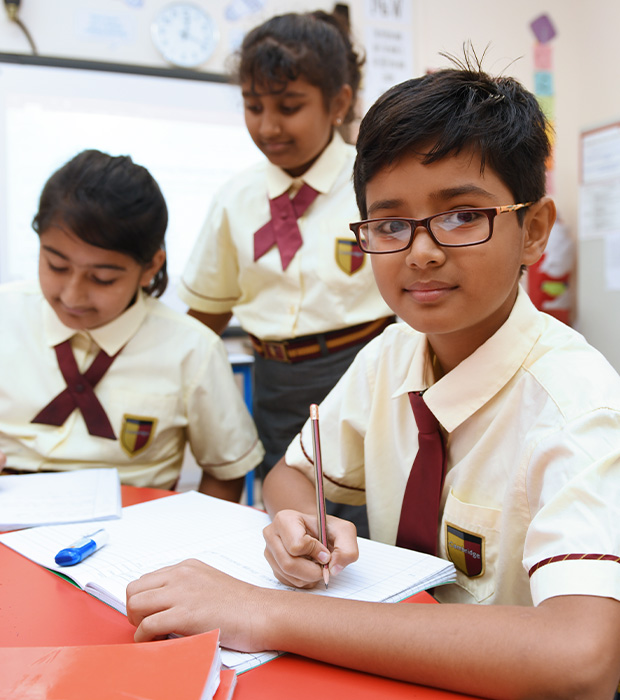 Facilities
The school now has a well equipped 800 seater auditorium.
ICT Facilities
The school has 4 ICT labs have over 150 computers available for students. The school is also equipped with 1 Media Lab, with school radio station and a news room. Students are also provided with full Internet connectivity.
Music and Art Facilities
Two well-stocked art studios and a music studio provide students with a wide array of resources for artistic expression and exploration.
Library
The school has a well-stocked library, which is also equipped with networked computers for students and staff to use.
Medical Services
The School has 2 hygienic medical rooms, equipped to regulatory standards. School medical rooms are staffed by a full time Nurse. Our in-house Doctor attends to the first aid requirements of students and staff should the need arise. All cases of injury or illness receive immediate medical attention.
All students receive regular medical examinations and our dispensary works in close conjunction with the Government of Dubai, Department of Health and Medical Services and Primary Health Care Section.
Science & Technology
Digital & Technology Education @ CIS
As a well-established educational centre, GEMS Cambridge International School, Dubai is constantly looking for ways to develop and enhance teaching and learning practices. With this in mind, the Senior Leadership Team strongly believes that the diversity of our students' learning style is one of our growing strengths.
With CIS being a Microsoft Showcase Centre and a CISCO Academy, our next step is to become an Apple Certified school. With the new and improved whole-school BYOD policy and the introduction of more iPad Minis in Foundation Stage, Early Years and Primary classes, the school believes that these are great tools to realize creativity and innovation. We impose a strict BYOD and MDM Acceptable Use Policy to protect the school and most importantly our students. We want students to be able to use engaging technologies in a collaborative, inquiry based format through a personalised learning environment. Thinking ahead, for a number of consecutive years, CIS provides three iPad trolleys as core devices for enhanced learning namely; multimedia, writing, coding, creativity and design. Our growing Apple ecosystem is currently made of around 100 iPads and iPad Minis.
As a school we encourage students to integrate the use of technology into every aspect of their learning. Combined with the right pedagogy and used responsibly, technologies will allow your child to learn collaboratively and express themselves and their ideas most effectively.
Improving Knowledge & Practice through After-School-Activities
As a centre, we believe that creative after school sessions namely; Enrichment 365 Activities, enhance students learning and methods of delivering information. The Technology After School Activities are filled with lots of extra-curricular tasks for all year groups. Students are offered professional industry certifications for extended learning beyond the curriculum. The Science and Digital technology courses across the Key Stages that we offer are listed below:
CISCO IT Essentials
Microsoft Digital Literacy
Speed / Touch Typing
Lego Robotics Club
ICT Coding Club
Creativity Club
ICT Learning Experience @ Cambridge
We believe that through an integrated approach to using technology in the classroom, students themselves will develop 21st century skills which include creativity and innovation, critical thinking and problem solving as well as good communication and collaboration. Specialist spaces including three Computer labs which have recently been updated to all in one PC (touchscreen), ensure provision of very effective learning and teaching. CIS has an ambitious number of ICT resources - including desktops, interactive panels and boards, Swivl cameras, data projectors, Ipads and touch-screen laptops for teaching staff.
CIS also has a secure WiFi coverage to access school network and internet, allowing students and teachers to bring in their own devices and use them for collaboration, teaching and learning.
Training on Innovative Teaching and Learning Practices
In 21st Century of teaching and learning, the advantages of educational technology have become a must in school environments. New technological applications enable teachers to become more effective in their pedagogy. Our teachers are willing and able to use technology to facilitate and assist learners in transforming knowledge and skills into real life solutions Just like in the past and this academic year, having tech-tools that support teachers instantly in classrooms with their learners by providing feedback is what the SLT promotes passionately.
E-Learning and More Innovative Teaching and Learning Practices
There's always an excitement when it comes to E-learning in our school as students get satisfaction from assignment completion, self-discovery and electronic feedback. Since the (MyLearning-Fusion) implementation, the online platform has become an interactive portal where creativity and collaboration are central to students' learning. The VLE has supported students, teachers and parents communicate and share resources effectively. This facilitates a technology rich learning environment which has led to better communication, enhance thinking and learning skills and develop 21st Century skills. Our teachers and students use a number of digital learning and e-learning apps namely; MathWhizz, MyMaths, Abacus, Active Learning, Pearson's Bug Club and Science Bug, Edmodo, PurpleMash, Language Garden, Sway, Appy Pie, Fusion, Mentimeter, QR Code, Socrative, Classdojo Plickers, Aurasma , BrainPOP, Socrative, Classdojo, Kahoot, Padlet, Hackasaurus, Goformative and Nearpod.
Sports Facilities
Beyond the development of skills, our sporting facilities support students in their goals of leading healthy and active lifestyles.
Swimming Pool & Outdoor Facilities
A large covered swimming pool, cricket nets and playing fields complement the indoor sports arena and multi-purpose hall. A separate, well-equipped, grassed playing area is available for students from Kindergarten to Year 2.
Astroturf Football Field
The school has a standard sized football pitch which is astroturfed. Interhouse and Interschool matches are conducted in this field. The sports days are also conducted in this field.
Book Store
Text-books, work-books and stationery are available at the school store in accordance with prescribed books for each class and subject options.
School Canteen
A well maintained canteen sells healthy snacks and drinks during break times. Hygiene and strict quality control of food are regarded as top priority
SLICES is our food & beverage provider for our school canteen. To register with slices for the use of cashless uses of purchases at the canteen visit slices.ae
Gallery of Our Facilities