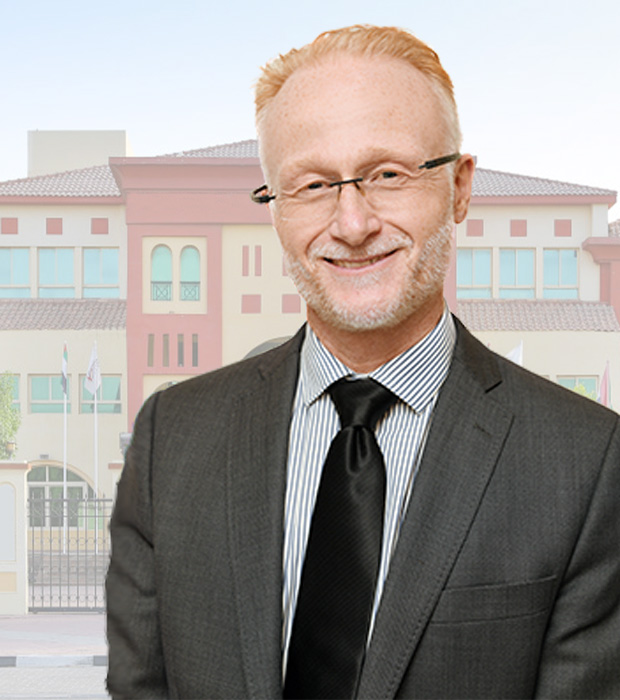 Welcome Message from the Principal
Mr. Lachlan MacKinnon
It is with pleasure that I extend to you a warm welcome to the Cambridge International School. Cambridge International School Dubai is a Foundation Stage to Year 13 School, teaching the National Curriculum for England (NCfE) including a range of IGCSE, AS level, A level and BTEC qualifications. With more than 2600 students from over 65 different nationalities, the diversity of our students is one of our greatest strengths.
At Cambridge International School, we pride ourselves on having a school where staff and students feel safe, have a sense of belonging, are treated with respect and have the right to learn and flourish. They are in a school where we build people that care, where we are united in purpose, where everyone matters, where everyone succeeds and no one is left behind. We are a learning organisation where everybody sees the common purpose, creating a vision of a better school that is infinite in its thinking.
We are a community of collaborative professionals who are committed to learning from each other in order to improve student outcomes. Where our collective professionalism creates deep dialogue or even heated debate about the best ways to support our students. We believe all students can succeed and we are prepared to make sure that they do, as if they are our own children. At our core is a focus on high performance in all areas. As a result, we have engaged in a journey of learning using High Performance Learning (HPL) as a framework. This is a three year journey to become a World Class Status HPL school. Already one year in, we have gained the iFoundation accreditation.
The approach to learning is remarkably simple. Put talented and diverse young people together with skilled and dedicated adults, with support from engaged and committed families and you create extraordinary results that speak for themselves. It is a culture where students at all levels say it is "cool to do your best" or "cool to be smart" and where mathematicians, athletes, writers, and musicians all thrive side-by-side working together, building a community of life-long learners. As a professional learning community, we are committed to working tirelessly to provide challenging educational opportunities for children every day.
We place our community efficacy (students, staff and parents) and voice at the front of what we do every day. We produce both student and teacher leaders for the future and we celebrate all diverse learners who flourish in their unique ways. Indeed, there are some outstanding schools in the UAE. However, Cambridge International School is one of the oldest schools with 38 years of stability and a strong track record of outstanding results for our students, both academically, emotionally and socially. We build a culture of collaboration between staff and students where everybody knows your name and we build a future and a common purpose for all. This makes us stand out from the rest.
At Cambridge we understand diverse family dynamics, we understand that everyone has a voice and we understand that together we are unstoppable. Please join us on this remarkable journey.
Lachlan MacKinnon
Principal & CEO
Cambridge International School, Dubai